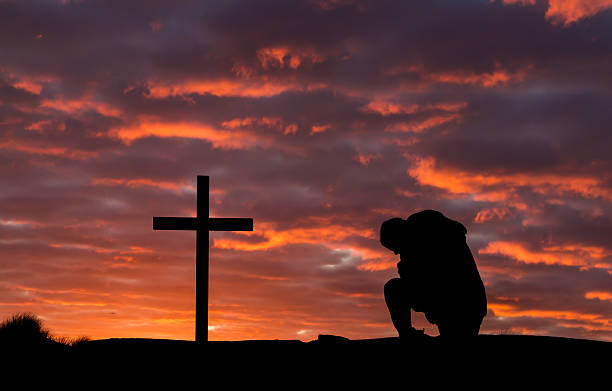 How To Get To Heaven
​
If you were to die right now, do you know for sure that you would go to heaven, or would you have some doubt about it?
There are Four Simple Truths from the Bible that you must realize and receive to know for sure that you will go to heaven when you die.
1. You must realize that you are a sinner
Romans 3:23 says: "For all have sinned and come short of the glory of God."

All means ALL PEOPLE
Sinned means TO HAVE DISOBEYED OR TO LACK BEING AS GOOD AS GOD
Come short means NOT BEING PERFECTLY OR COMPLETELY HOLY OR GOOD

Are you convinced that right now YOU ARE A SINNER before God?
2. You must realize that there is a penalty for sin
Romans 6:23a says: "For the wages of sin is death."

Wages means SOMETHING THAT YOU EARN OR DESERVE, LIKE A PAYCHECK
Is means PRESENTLY
Death means SEPARATION FROM LIFE, BOTH PHYSICAL AND SPIRITUAL
3. You must realize that Jesus died to pay the penalty for sin
Romans 5:8 says: "But God commendeth His love toward us, in that, while we were yet sinners, Christ died for us."

Commendeth means PROVED OR DEMONSTRATED
While we were yet sinners means NOT BEING GOOD TO RECEIVE CHRIST'S PAYMENT FOR OUR SIN

As a sinner, are you convinced JESUS DIED TO PAY THE PENALTY FOR YOUR SIN?
4. You must receive Jesus to be saved from paying sin's penalty
John 1:12 says "But as many as received him, to them gave he the power to become the sons of God"

Received him means to TAKE JESUS, TO DECIDE TO ACCEPT HIM AS YOUR SAVIOUR
To them means ONLY TO THOSE WHO RECEIVE HIM

It is for all, but all must receive, or accept Him.

To them gave he the power means THEY HAVE THE AUTHORITY OR THE RIGHT
To become the sons of God means TO BECOME HIS CHILD: TO BECOME RELATED TO, BORN INTO HIS FAMILY, TO HAVE HIS LIFE IN US

If you are in agreement with these Scriptures, PLEASE OBEY THEM NOW. Just tell the Lord Jesus, who is very present, that you are a sinner who needs His sacrifice to be saved. Tell Him you believe on His death to be in your place, and now accept this free gift. Thank Him for saving you from God's judgment that is coming upon all who do not accept this free gift. Pray this in the name of Jesus per the Lord's instructions. The Scripture states in Romans 10:13: "For whosoever shall call upon the name of the Lord shall be saved." If you have trusted Christ as your Saviour, we would love to rejoice with you and help you as you begin your life as a brand new Christian. Please feel free to
contact us
. Or join us this Sunday to learn more about growing as a new Christian.